Random Thoughts:
hmm... Instead of passing law/s to surtax the rich to pay off government debt, why not just ask? And/or have a TV telethon? (ex. 911; Haiti)
10:11 PM Oct 31st
via web
If I were one of the rich, I think I'd far rather be asked than be forced. And I think I'd demand a contract from the government in return.
10:13 PM Oct 31st
via web
A contract from them promising not to borrow money that can't be, for sure, paid back within 3-5 years.
10:14 PM Oct 31st
via web
A contract from them promising to not spend money they don't have. And to stop spending the money they don't have to other countries.
10:18 PM Oct 31st
via web
I don't have a problem with helping other countries in need. But if we don't have it to give ... don't borrow it in order to give.
10:22 PM Oct 31st
via web
The US Gov. should be more concerned with its OWN needs at the moment. Then, once it gets back on track, it can go back to helping others.
10:25 PM Oct 31st
via web
Like they tell parents on flights. Mask yourself first, then mask the kids. You expire, they expire. The US must take care of itself first.
10:27 PM Oct 31st
via web
...
I had seen a bit of 60 Minutes just before making these comments on Twitter. There was a discussion on enforcing a surtax on the super rich to pay off the US Debt. And I can see how this could help out for this point in time ... but at the rate the US is spending money, how long before there's the need to enforce another surtax? (I'm sure the super rich will have made enough new money to be able to surtax them again later on down the road. :::shrugs:::)
I was raised that you don't borrow money you can't pay back as quickly as possible, you don't spend money you don't have, and you don't borrow money you won't be able to pay back within a few short years. "We may not have much, but it's paid for."
I think the government should print that out and tape it to the walls, doors, stalls, etc. to keep that at the forefront of their minds. (Think it'll work?)
...
This morning, I got an idea to help pay off the debt:
Set up a phone number where people can call in and make a donation. (Also set up a Government webpage to take donations. Give an address for those who'd prefer to pay by check.)
This phone number can be set up to donate $1 per call, or there can be a message:
Press 1 to donate $1.
Press 2 to donate $5.
Press 3 to donate $10.
Press 4 to donate $25.
Press 5 to donate $50.
Press 6 to donate $75.
Press 7 to donate $100.
Press 8 to donate $500.
Press 9 to donate $1,000.
Press 0 to make other donation.
...
Here are my thoughts from a year ago:
Is it possible for a government to be self-sufficient? To create/own businesses that bring in a steady stream of substantial income?
1
If so. What kinds of businesses should a government create/own? And who should be involved with it? Who should be the shareholders?
2
What about government auctions, where donations are sold? A needlepoint made by a senator's wife, mother, or other? A quilt? A painting?
3
Should not a government be self-sufficient? Able to support itself without relying solely on its people? Are there such governments?
4
Currently reading:
Trust Me on This (Loveswept)
By Jennifer Crusie
Release date: 2010-10-26
Current Mood:

thoughtful
No Bake Chocolate Oatmeal Cookies

AKA: Boiling Cookies



2 cups sugar
1/4 cup cocoa (can add 1/2 cup if you like dark chocolate)
1 stick butter
1/2 cup milk
1/2 cup peanut butter (crunchy or smooth)
1 tsp. vanilla
3 cups oats (quick cooking)

Mix sugar, cocoa & milk together in a pan, then add the stick of butter; bring to a boil, stirring constantly. Boil one minute or a little longer and then turn off the heat; add the peanut butter, vanilla and oats. Beat until it thickens. Drop by teaspoon or tablespoon onto waxed paper. Let stand until firm.

(You can leave out the cocoa and add extra peanut butter to have No Bake Peanut Butter Oatmeal Cookies. You can also substitute shredded coconut or chopped nuts for the oats.

I like getting a spoon and a glass of milk and eating it hot from the pan. It's good stuff!


)

Other Recipes w/Images:
Recipe 1
Recipe 2
Recipe 3
Current Mood:

hungry
Pork Chops & Rice



Ingredients

4 to 6 pork chops
salt and pepper to taste
cooking oil
1 green pepper (chopped) -- optional
1 1-3/8 oz. envelope onion soup mix
2-1/2 cups water
1 cup uncooked rice

Procedure

Season chops with salt and pepper; brown on both sides in hot oil. Remove chops; add onion soup mix and water to pan drippings. Bring to a boil. Place rice and green pepper in a shallow two-quart casserole dish, then top with pork chops. Pour soup mixture over chops and bake at 350o for one hour.

Yields 4 to 6 servings.
Current Mood:

worried
I've been a reader of
POE'S DEADLY DAUGHTERS
for a while now. Today's blog post invited readers to
play a writing game
. Photo # 5 inspired this:



Devlin enjoyed creating snow angels, with their eyes glued open to stare up at the sky, and their arms and legs splayed out in wait for him to mount them.

O_o

Creepy. =D

If that image disappears, it was similar to this one: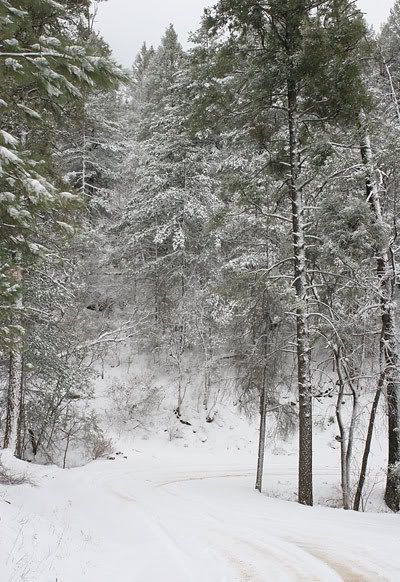 Current Mood:

excited
Current Mood:

thoughtful
What I've Been Reading:
Airhead by Meg Cabot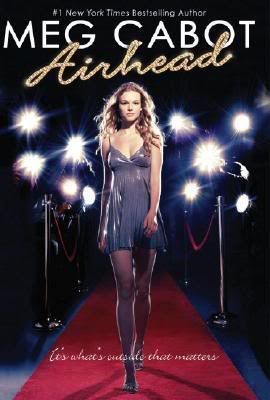 Airhead
by
Meg Cabot
There's nothing like waking up to a whole new you. Talk about an easy makeover. Of course, maintaining the new look won't be easy. Watch out models, you just might lose your posh lives as well as your minds. =D If I were you, I'd crack open a few books and start cramming before someone decides you don't have the intelligence to continue living the 'good life.' Ha! I can just see the urban legend now: Ex-models wake up to find themselves in overweight bodies that don't even belong to them! Egads, the horror! Can they turn these sorry lives around and get back on top of the modeling world?
Well, that's not this book, sorry. Who really wants to follow the model through her hell, when you can enjoy living the 'good life,' the model left behind, with the one who took it over? Much more fun. Warning: This is the first book of a series.
Currently reading :
Airhead


By: Meg Cabot
Current Mood:

pensive


What I've Been Reading:
The Host by Stephenie Meyer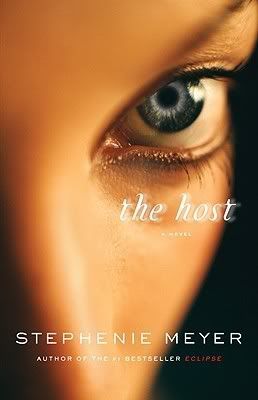 The Host
by
Stephenie Meyer
Have you ever wished that you could coast through life and let someone else have control over your actions? Well, better be careful what you wish for. In this book, that's exactly what happens. Only, no one asks permission to insert themselves into your brain, forcing you to take a back seat in your own mind & body.
Have you ever heard the phrase, "Love thy enemy," and wonder what good that would do? Seems it does a world of good. Not just for you, but for your enemy as well. Love is far more useful than hate in a lot of situations. Love conquers all. If you don't believe me, just read this book. =D
Current Mood:

cheerful
I have an idea for a soft horror novel for children. The teacher for the writing course I took recommended that I read similar books. I suggested R L Stine ... because I thought my writing was about that speed. (I think my writing is brief ... bland ... not all that great. And if he can get published, why can't I? :D) And my teacher told me to, "find mysteries and soft horror books of better quality." ::lmao:: That I should aim higher by reading the best and working toward writing as well as the best writers ... instead of aiming low. I should always try to improve my writing.
Here are books in this genre that I've read so far:
Wait Till Helen Comes by Mary Downing Hahn
Time for Andrew by Mary Downing Hahn
The Dead Man in Indian Creek by Mary Downing Hahn
The Ghost Witch by Betty Ren Wright
The House on Cherry Street: The Haunting by Rodman Philbrick & Lynn Harnett
The House on Cherry Street: The Horror by Rodman Philbrick & Lynn Harnett
The House on Cherry Street: The Final Nightmare by Rodman Philbrick & Lynn Harnett

Jinx
by Meg Cabot
May Bird and the Ever After

by Jodi Lynn Anderson


May Bird Among the Stars

by Jodi Lynn Anderson


May Bird, Warrior Princess

by Jodi Lynn Anderson

Killing Britney
by Sean Olin
Here are books on my TBR pile:
Twins
by Caroline B. Cooney
The Blue Ghost
by Marion Dane Bauer
The Doll In The Garden
by Mary Downing Hahn
The Old Willis Place
by Mary Downing Hahn
Look for Me by Moonlight
by Mary Downing Hahn
Ghost Ship
by Dietlof Reiche
Uninvited
by Amanda Marrone
Stranger with My Face
by Lois Duncan
Twilight
by Stephenie Meyer
New Moon
by Stephenie Meyer
Eclipse
by Stephenie Meyer
Breaking Dawn
by Stephenie Meyer
Uninvited
by Justine Musk (
Zoe Member
)
If anyone has any suggestions of other children's books in the mystery/soft horror genre that I should read, please, add them below. I'd prefer single book titles. Thanks.